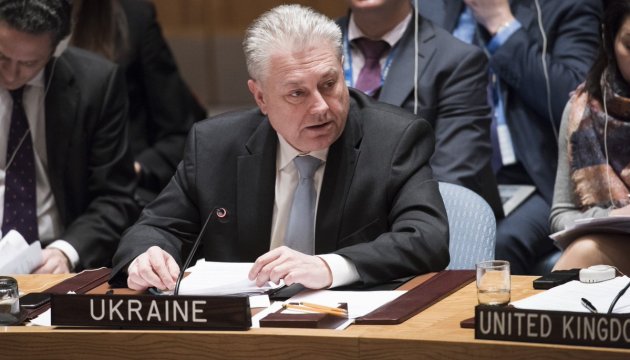 In the coming years, Ukraine will initiate new resolutions on the human rights situation in occupied Crimea, since Russia is unlikely to allow international monitors to visit the peninsula.
Ukraine's Permanent Representative to the UN Volodymyr Yelchenko said this in an interview with the Yevropeiska Pravda online news site.
"I think that we will [initiate similar resolutions in the next few years]. This resolution, after second approval, has become regular. As you know, we have made very significant changes to the text as compared to last year. Such resolutions have their own evolution: one year passes, circumstances change, and new wording is adopted. We still hope that before next year there will be some slight progress in the issue of the admission of the UN monitoring mission to Crimea," Yelchenko said.
While commenting on media reports that the so-called Crimean parliament is allegedly preparing an appeal inviting the UN mission to Crimea, he noted that Ukraine always supported the admission of UN monitors there.
"Finally, there will be something to write in the report, because now we simply record that Russia does not let anyone there... I think that this is a game targeting the domestic Russian audience. There will be no invitations. Those in Russia understand that what the mission writes after visiting Crimea will have even more terrible consequences for them than if they do not let this mission there. So, returning to the UN General Assembly resolution on Crimea, yes, there will be the third, fourth and fifth one," Yelchenko said.
He noted that the UN Security Council had not currently discussed how the issue of Crimea could be resolved. According to him, in this sense Ukraine has chosen at the current stage a way of consolidating efforts on the situation with human rights.
"Yes, this will not solve the status of Crimea and will not return it [to Ukraine], but there are other formats or other platforms for this, even within the UN. This concerns the sixth legal committee and the UN international court. We will see what the decision on our lawsuit is, and based on it, we will be able to move to something more serious - say, to the question of the status of Crimea," he said.
As reported, the UN General Assembly approved the resolution "Situation of human rights in the Autonomous Republic of Crimea and the city of Sevastopol (Ukraine)" on December 19, 2017. The document was supported by 70 UN member states. Seventy-six member states abstained, and 26 countries voted against the resolution.
The document, in particular, confirms there is an international armed conflict between Ukraine and Russia and condemns the retroactive application of Russia's own laws in the occupied territory. The resolution urges Russia to implement the interim decision of the UN International Court of Justice to restore the rights and freedoms of Ukrainian citizens on the peninsula; calls on the Russian occupation authorities to ensure the educational process in the Ukrainian and Crimean Tatar languages.
op