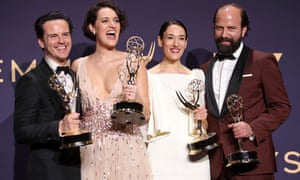 So while the ceremony might have felt like a drag at times (did all of those awards really need to be televised) and while the decision not to have a host didn't pay off quite as well as it did for the Oscars, there were enough surprise wins to make this year's Emmys a compelling night.
The biggest story was Phoebe Waller-Bridge, whose self-confessed "pervy" show cursing its way into the hearts of Emmy voters was something not many had predicted, especially given the competition. It was less of a surprise that Game of Thrones would win the biggest award of the night but the dramatic categories did at least offer some surprise acting wins, such as Billy Porter and Jodie Comer. Brits enjoyed a strong showing across the board, the best for years, with further wins for Ben Whishaw, Charlie Brooker and Jesse Armstrong.
It feels like the Emmys is in need of a clearer vision for the ceremony next year, as well as some more logical music cues, and I have a feeling that when the ratings come in tomorrow, the night will be down on last year but the unpredictability made it mostly tolerable. It feels like the result of an expanded and more diverse academy, voters who are younger and less willing to reward the obvious, safer choices. Here's hoping that same riskiness pays off at the Oscars come February ...