Poroshenko is the ultimate beneficiary in 28 companies.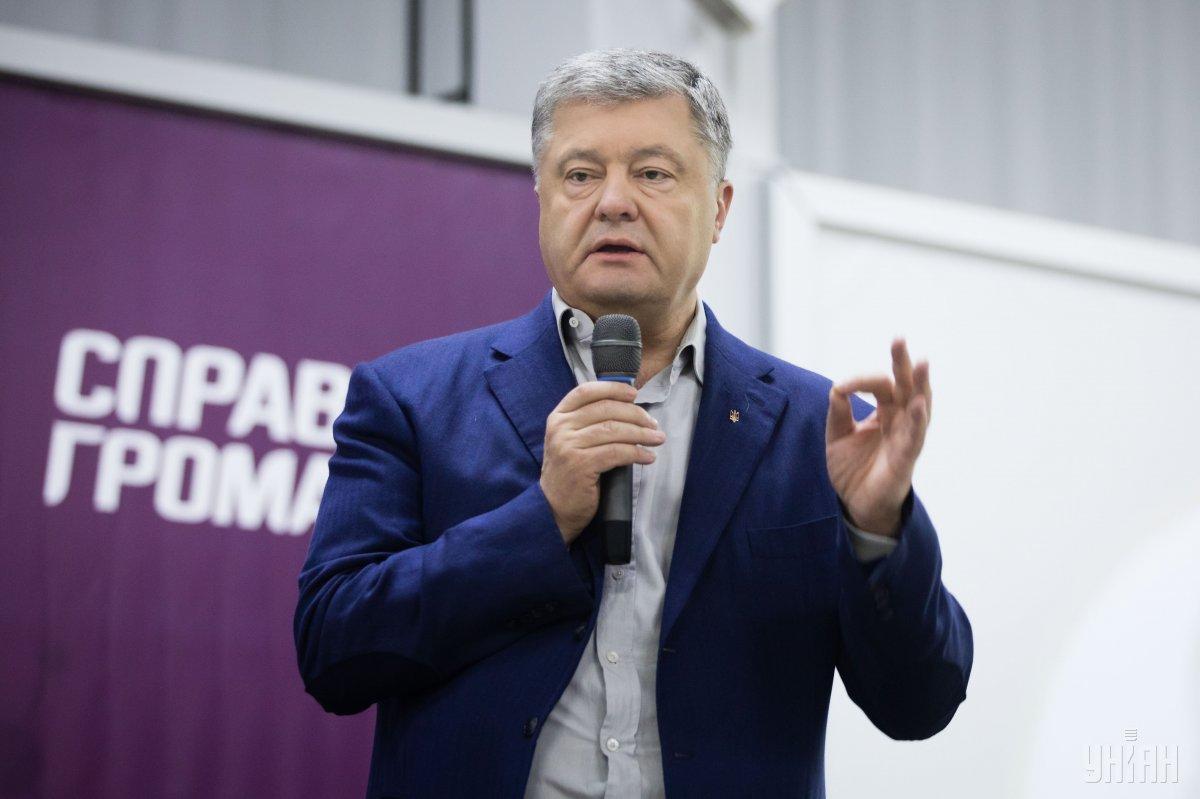 Photo from UNIAN
Former Ukrainian President, MP from the European Solidarity Party Petro Poroshenko declared UAH 773 million (US$28.9 million) in income in 2019, which is half as much as in 2018.
The relevant assets declaration has been published in the state register of declarations by persons authorized to perform state functions or local government.
The lion's share of the income, or over UAH 606.3 million (US$22.6 million), is a dividend from PJSC CNCIF Prime Assets Capital through which Poroshenko owns his assets.
Poroshenko received UAH 33.08 million (US$1.2 million) from the sale of part of shares in the International Investment Bank. He also received almost UAH 16 million (US$598,131) as income on deposits from the same bank.
Read alsoUkrainian parliament speaker declares almost US$50,000 in 2019 income
What is more, the former president received UAH 6.18 million (US$231,215) in compensation for moral damages and reimbursement of legal expenses in litigation with the BBC company. Poroshenko accused the agency of disseminating false information.
The MP also declared over UAH 108.7 million (US$4.06 million) as payment of income on government domestic loan bonds.
In 2019, Poroshenko spent UAH 584.4 million (US$21.8 million) on a contribution to the election fund as a presidential candidate in Ukraine.
Last year, the former president paid UAH 187 million (US$6.99 million) in war tax and other types of tax.
Poroshenko received a salary of UAH 128,500 (US$4,803) as president, almost UAH 10,000 (US$374) as a member of the European Solidarity Party, and UAH 159,000 (US$5,944) as a lawmaker.
In addition, Poroshenko received UAH 2.5 million (US$93,458) as the return of collateral for registration as a presidential candidate.
According to the declaration, Poroshenko is the ultimate beneficiary in 28 companies.
Poroshenko is the owner of a house with outbuildings (1,331 square meters) and three land plots (about 4.2 ha) in the village of Kozyn in Kyiv region. He also owns three land plots in the capital city of Kyiv (almost 1.25 ha). Moreover, he is the owner of an apartment of 134.06 square meters in Kyiv, an apartment of 82.15 square meters in Kyiv, an apartment of 68.20 square meters in Kyiv, and the Lebid (Swan) recreation center (2,425 square meters) in Odesa region.
The former president owns a 2010 Mercedes-Benz Vito 116 CDI minivan. The declaration also mentions 2015 Mercedes-BENZ S 500L 4Matic and 2015 Mercedes-BENZ S600L sedans as official cars.
He also declared two Breguet and one Patek Philippe wristwatches. Other valuable assets include furniture, branded clothing, and jewelry.