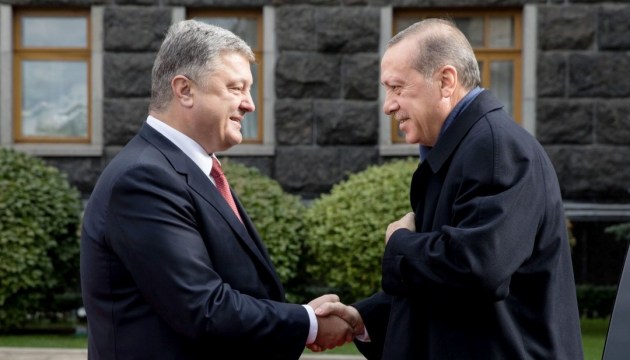 Ukrainian President Petro Poroshenko stated this when opening the sixth session of the Ukraine-Turkey High-Level Strategic Council, the president's press service reported on Monday evening, October 9.
"We would be really interested in increasing Turkish representation in the OSCE SMM. We are grateful for a well-coordinated work of the special monitoring mission headed by the Turkish representative. In the near future, Turkey's support for the deployment of a UN peacekeeping mission in certain districts of Donetsk and Luhansk regions will be of particular importance to us," Petro Poroshenko emphasized, noting that the given issue had been discussed during the negotiations.
The President also noted that the strategic partnership between Ukraine and Turkey "is at the very high level, just as the level of trust between the Presidents".
"And already not 2.5, but 3 hours we spent with Mr. President [Recep Tayyip Erdoğan] during the meeting in vis-à-vis format provide all grounds for optimism in the development of all spheres of our bilateral cooperation and multilateral coordination," he said.
President Poroshenko also thanked President Erdoğan for Turkey's firm support for Ukraine's sovereignty and territorial integrity, and non-recognition of Russian aggressive actions in eastern Ukraine and illegal annexation of Crimea.
iy