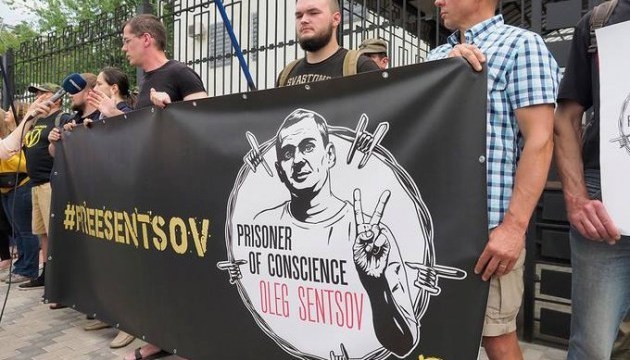 Several dozens of activists joined the action, an Ukrinform correspondent reports.
"We have come today to picket the Russian embassy ​​on the eve of the FIFA World Cup in Russia to express our solidarity with Sentsov and support all political prisoners. We want to explain that all people, who go to Russia to attend the football championship, and all, who bought tickets, become the accomplices in crime. Sensible people cannot go to such events when Sentsov is on hunger strike, when other Ukrainians are held in Russia's prisons," said action co-organizer Dmytro Zhmailo.
In particular, the activists urge to boycott the Ukrainian media outlets, which will broadcast the FIFA World Cup in Russia.
Moreover, the protesters read out an appeal to foreign citizens in English, calling on them to join the boycott of the 2018 FIFA World Cup.
ol