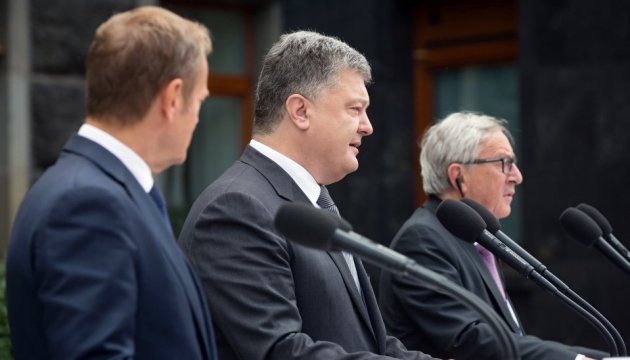 Ukrainian President Petro Poroshenko said this at a joint press conference with European Council President Donald Tusk and European Commission President Jean-Claude Juncker in Kyiv on Thursday, the presidential press service reported.
"I emphasize once again about the prospects for creating the conditions for a gradual decrease in roaming charges for mobile calls and data transfer between Ukraine and the EU countries. I insist that it is very important to expand human contacts between citizens of Ukraine and the EU member states and create a single European communications space," he said.
He noted that great prospects opened up for Ukraine in the issue of Ukraine's integration into the EU Digital Single Market. "We spoke about this today. We also insist on other projects that are extremely ambitious, and thanks for their support from our partners," Poroshenko said.
According to him, the Association Agreement, in combination with the European aspirations of Ukraine, is extremely important today and the EU support opens the space for unlimited opportunities in virtually every sector of bilateral relations.
Poroshenko also noted that there was an opportunity to study the issues of ensuring the rights of young Ukrainian citizens to study in higher education institutions of the European Union on the same conditions as citizens of the European Union. "This is an investment in our common future," he said.
op