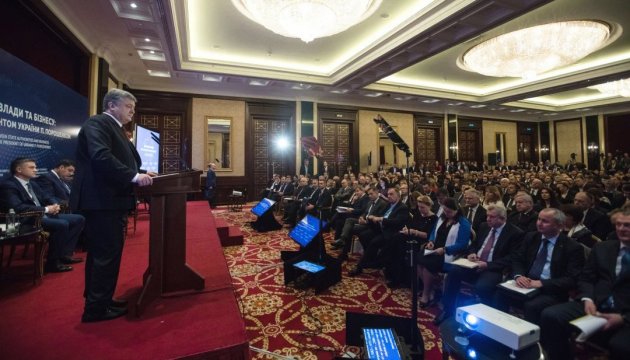 President of Ukraine Petro Poroshenko said this during a meeting with representatives of business circles, the press service of the Head of State said.
"The President noted that according to the survey, 65% of international companies operating in Ukraine expect growth next year, 40% of which expect a double-digit growth," the statement reads.
Poroshenko reminded of the report of the European External Action Service regarding the progress of reforms, released on November 15.
"Ukraine, according to this survey, is becoming an interesting place for investment in production for the purpose of further export to Europe, in particular Eastern and Southern, as well as to Turkey. Among the 23 markets in the region, Ukraine has risen from the 22nd place in 2015 to the 5th in 2017, according to the dynamics of sales," the Head of State said.
The President also thanked all international companies that changed their governance structure in the region. "More than 60% of companies present in Ukraine, who previously were focused on their offices in Moscow, are now subject to European headquarters," the Head of State underscored.
Petro Poroshenko drew attention to the fact that in the latest study of Doing Business Ukraine, the most significant progress was shown in the direction of "obtaining construction permits" - from 140th to 35th place; in the direction of "taxation" - from 84th to 43rd position.
ol