Ukraine is showcasing its brand new multi-purpose transport aircraft An-132D at the 2017 International Paris Air Show in Le Bourget, France.
The plane was developed by Ukraine's state-run Antonov enterprise.
Ukraine's An-132D performs maiden flight (Photo)This is the first Ukrainian-made plane that was assembled without Russian components.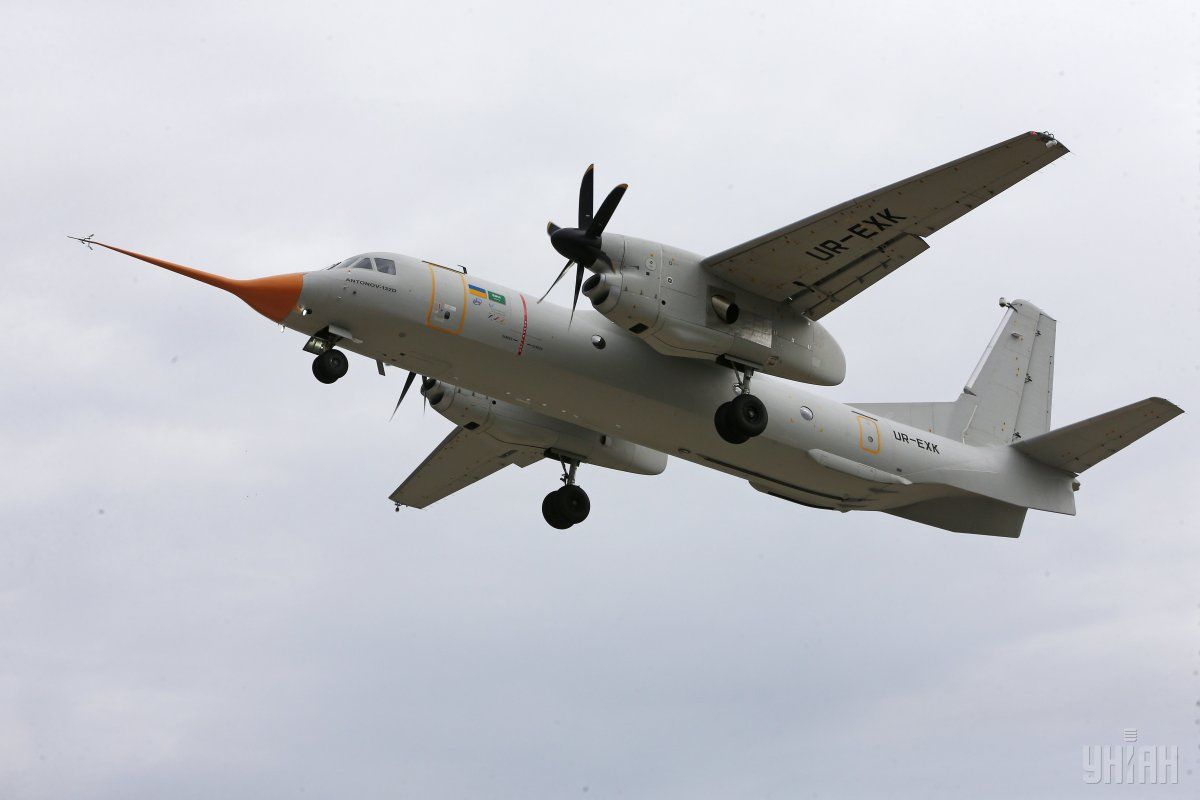 The maiden flight of the aircraft took place in March this year.
The An132D is taking off in Paris Le Bourget airport for the training flight
The International Paris Air Show, it is unofficially called Le Bourget by the name of the town near Paris and its airport, kicked off on June 19. It is being held for the 52nd time. It will last until June 25.
The International Paris Air Show is an international aviation and aerospace exhibition, which is organized every two years by the SIAE, a subsidiary of GIFAS, the French Aerospace Industries Association.
The organizer has not yet disclosed recent statistics. In 2015, the event was attended by 149,900 company representatives, 201,600 visitors, and more than 2,300 companies were exhibited.
This year, 130 aircraft and helicopters will be on display, according to the website of the air show.
Some 36 samples of the aircraft industry from seven countries are to take part in the flight program, according to the Russian daily online Vedomosti.
One regional plane will be showcased by Japan and Turkey each, two planes will be presented by Germany.
Japan's Mitsubishi Regional Jet, or MRJ for short, is the next generation 92-seat jet offers increased comfort for short regional flying and a 20% boost in efficiency for airlines, according to CNN.
One of the industry's biggest rivalries will be front and center: Europe's Airbus vs. America's Boeing.
Wall Street expects Boeing (BA) to announce its first deals for the 737 Max 10, the newest member of its single-aisle 737 Max family. United Airlines (UAL) may be first in line, say analysts and industry executives. Boeing is trying to blunt the success of Airbus rival A321neo, which is making its own debut at the show.
The new long-range twin-aisle Airbus (EADSF) A350-1000 and Boeing's 787-10 Dreamliner will also be on display for the first time.
Boeing will also reveal the first major details of its hotly anticipated all-new airliner, expected to become the 797. It isn't expected to be ready until the middle of next decade.
Ascending newcomers from Russia and China will also be on hand to tout progress on new airliners that will challenge Boeing and Airbus.
The Russian state holding United Aircraft Corporation (UAC) will show only models of its civil aircraft lineup.
Brazil's Embraer (ERJ) is bringing its largest commercial airliner yet, the 140-seat E195-E2, to Paris for the first time and Canada's Bombardier (BDRAF) is looking to show off its C Series airliner, which is in a brewing trade spat with Boeing.
Lockheed Martin's F-35A Joint Strike Fighter will be on display at an international air show for the first time. The stealthy fighter jet, the Pentagon's most expensive program, looks to woo more international buyers with a new flying routine over the show's crowds, CNN said.
Tags: Antonov, Paris, LeBourget, An132D
If you notice a spelling error, please highlight it with your mouse and press Ctrl+Enter