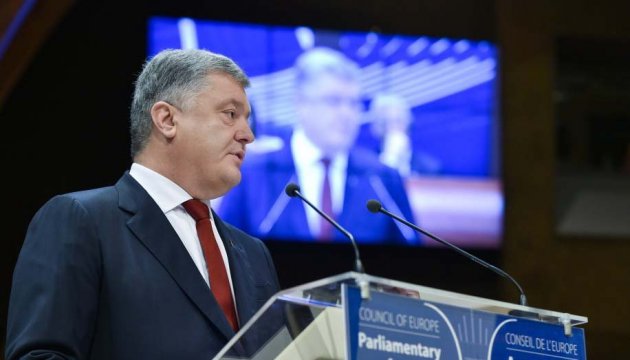 He stated this at a plenary session of the Parliamentary Assembly of the Council of Europe (PACE) in Strasbourg on Wednesday, an Ukrinform correspondent reports.
"Systemic repression has turned the Crimean peninsula into an island of non-freedom and a land of fear. In the occupied Crimea, Russia uses the worst practices of the Soviet repressive machine. Anyone who does not accept the so-called reunification with Russia becomes a victim of arbitrary detention, persecution, torture, extrajudicial executions, and inhumane treatment," Poroshenko said.
He recalled that deputy head of the Mejlis of the Crimean Tatar people Akhmet Chiygoz had recently got a "verdict" from the occupation authorities. "These are his words that in Crimea they now 'judge those who defended the laws of the country, international norms, and rules.' Is it possible to more accurately describe the situation in Crimea than Akhmet Chiygoz said in his final word? And it's not just about Crimea, but about Europe as a continent of the rule of law, rather than the rule of force," Poroshenko said.
He also recalled the indicative case of another deputy head of the Mejlis, Ilmi Umerov: "This hero of his people initially felt the methods of Russian punitive psychiatry. Now an occupation court sentenced him to two years in a penal colony."
The head of state said that the scale of crimes and offenses committed by the occupation authorities in Crimea was a sign of the obvious neglect by Russia, which was recognized by the UN General Assembly as an occupying power, of its international legal obligations.
In this regard, Poroshenko thanked the PACE and, in fact, the Council of Europe, for paying special attention to the question of the Crimean peninsula. Evidence of this is the repeated appeals of the Council of Europe's monitoring bodies on human rights to the Russian occupation authorities to grant access to Crimea. He also said that the unprecedented decision of the Committee of Ministers of the Council of Europe on the situation in Crimea and the city of Sevastopol, which was adopted in May this year, was equally important.
op