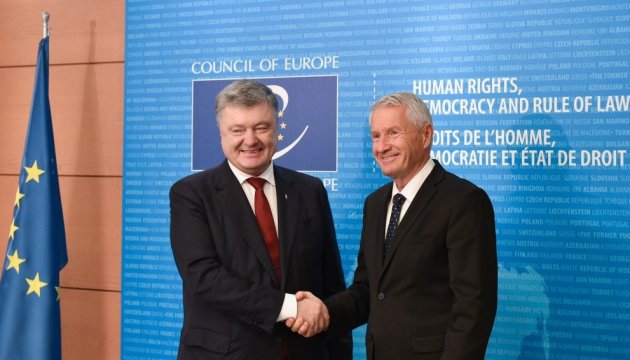 The negotiations between Poroshenko and Jagland took place in Strasbourg on Wednesday, October 11, the press service of the head of state reported.
"The head of state called on the secretary general of the Council of Europe to more actively engage in efforts to free Ukrainian citizens who are illegally held in the occupied Crimea and Donbas and in Russia," the statement reads.
The statement notes that Poroshenko thanked the Council of Europe for its support, adding that from the very beginning of Russia's aggression against Ukraine, the Committee of Ministers and the Parliamentary Assembly had resolutely defended the country's territorial integrity and sovereignty.
Poroshenko stressed the need for the consolidation of all Council of Europe institutions to continue systemic pressure on Russia so that it meets the demands of the Council of Europe to end the aggression against Ukraine.
He also called for more active role of the Council of Europe in protecting human rights in the territory of the illegally occupied Ukrainian Crimea. In particular, Poroshenko asked the secretary general of the Council of Europe to use all available mechanisms to remedy the critical human rights situation on the peninsula.
op