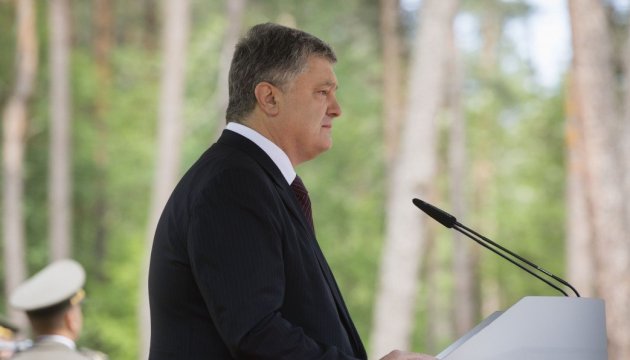 He wrote this on his Facebook page.
"It is very symbolic that the International Court of Justice has determined June 12 - Russia Day - for the submission of the memorandum in the case of Ukraine against Russia regarding the violation of the International Convention for the Suppression of the Financing of Terrorism and the UN Convention on the Elimination of All Forms of Racial Discrimination," he said.
According to the head of state, the submission of the memorandum in the case against Russia is an important stage in proving that Russia will bear responsibility for all its illegal actions.
"The memorandum contains the amount of evidence, which is extraordinary for judicial practice. This is done so that nobody doubts that Russia committed unlawful actions and should bear responsibility for that. There is still a lot of work to bring the truth, but the truth is on our side, and therefore we will defend it with all appropriate means," Poroshenko said.
He said that the whole world would convince Russia to recognize the illegality of its actions and get out of occupied areas of Donbas and Crimea.
"Meanwhile, Russia stubbornly lies that it was not them who occupied Ukrainian lands, that they did not bring the Buk that shot down MH17, and that they did not bring Grad systems that shelled civilians of Mariupol, Kramatorsk and Avdiyivka, and a checkpoint in Volnovakha. Russian officials are stubbornly lying that they did not recruit terrorists who carried out explosions in Odesa, Kharkiv and Kyiv. They are also lying that they are not driving Ukrainians and Crimean Tatars out of Crimea, discriminating against them under occupation," he said.
At the same time, Poroshenko stressed that only the truth and evidence could overcome these lies, adding that this requires the position of the International Court of Justice, which would properly assess the actions of the Russian Federation and leave them unable to hide from responsibility behind further manipulation and shouting "it's not us" and "we're not there."
op